We're Getting Mutants in the MCU - The Loop
Play Sound
Robert is a lower class prison guard. Along with Henry he is seen numerous times during some cutseens doing trivial activities. He is a very enthusiastic MIO fan.
Opponent Info
[
]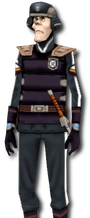 LOVELY MIO: Lovely Honey(King)
REFRESHER: Lovely Lady
RETURNER: Rollerover
SLICER: Blade Beetle
LEAPER: Hopper
First take out Lovely Lady because this Insector can heal it's allies and you do not want that to happen on the field. Next, take out Hopperbefore it leaps towards your King. The other Insectors can be defeated easily even if the King is rank 5 Insector.

Insectors stats
[
]
Playable characters
Jaster Rogue - Kisala - Steve - Simon Wicard - Zegram Ghart - Lilika Rhyza - Jupis Tooki McGanel - Deego Aegis
Guest characters
Desert Claw
Daytron Corporation
Valkog Drazer - Norma Kissleigh - Dr. Izel - Golba - Donald Pocacchio - Seed
Other characters
Dorgengoa - Monsha - Toady - Raul - Qrann Ijiru - Miri Rhyza - Amni Rhyza - Ugozi - Miyoko and Chie - Henry - Robert - MIO -

Mark Pocacchio

-

Fox Banarge

-

Vandersch

- Alekt Rosencaster - Johnny - Starr - Lucy Dyne -

Burton Willis

- Angela Seas - Gale Dorban -

Zax Morarty

- Junia Morarty - Harry -

Fritz

-

Jaus

-

Nina

-

Ragnar

- Johanna -

Freidias

-

Albioth

- Ilzarbella - Sebastian - Arabis
Rosa - Juraika - Zerard - Vedan - Alistia - Mariglenn
Dorgenark - Emperor - Ghost Ship - Ghost Ship Extreme
Directory
Items List, Key Items, Rare Items, Bosses, Enemies, Quarries, Shields, Weapons, Costumes, Weapon Synthesis, Factory, Insector, Frog Log, Revelations
Other
Wilherser System, Transporter, Walkthrough