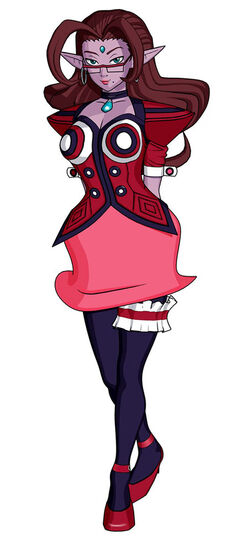 Norma Kissleigh is Valkog Drazer's secretary. Though only a secretary, she is often known to have more control over Daytron and sometimes even gives Valkog orders.
Appearance
Edit
Norma is a purple skinned elf-like humanoid with long, wavy red hair and a light blue jewel on her forehead. Her eyes are also light blue. She has a beauty spot next to her lips on the right side of her face. Around her neck is a dark blue choker with a large teardrop shaped, light blue gemstone attached. She also has large silver hooped earrings. She always wears glasses with a red rim and her outfit consists of what appears to be a dress suit formed of a red jacket with blue, red and white detailing and a pink skirt. She wears dark blue tights with a red and white garter around her left thigh and smart, red high heeled shoes with straps just above her ankles.
Norma's weapon choice is a gun. When fighting her as the second-to last boss in the game as part of the Demon Battleship, she uses massive claws and the jewel on her forehead launches a high powered electrical attack.
Playable characters
Jaster Rogue - Kisala - Steve - Simon Wicard - Zegram Ghart - Lilika Rhyza - Jupis Tooki McGanel - Deego Aegis
Guest characters
Desert Claw
Daytron Corporation
Valkog Drazer - Norma Kissleigh - Dr. Izel - Golba - Donald Pocacchio - Seed
Other characters
Dorgengoa - Monsha - Toady - Raul - Qrann Ijiru - Miri Rhyza - Amni Rhyza - Ugozi - Miyoko and Chie - Henry - Robert - MIO - Mark Pocacchio - Fox Banarge - Vandersch - Alekt Rosencaster - Johnny - Starr - Lucy Dyne - Burton Willis - Angela Seas - Gale Dorban - Zax Morarty - Junia Morarty - Harry - Fritz - Jaus - Nina - Ragnar - Johanna - Freidias - Albioth - Ilzarbella - Sebastian - Arabis
Rosa - Juraika - Zerard - Vedan - Alistia - Mariglenn
Dorgenark - Emperor - Ghost Ship - Ghost Ship Extreme
Directory
Items List, Key Items, Rare Items, Bosses, Enemies, Quarries, Shields, Weapons, Costumes, Weapon Synthesis, Factory, Insector, Frog Log, Revelations
Other
Wilherser System, Transporter, Walkthrough