We're Getting Mutants in the MCU - The Loop
Play Sound
Henry is a lower class prison guard. Along with Robert he is seen numerous times during some cutseens doing trivial activities. He is a very enthusiastic MIO fan.
Opponent Info (Rank B: Round 2)
[
]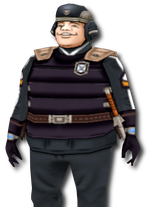 HENRY JR.: Narcissus Beetle (King)
ANGEL MIO: Butterflap
MIOTHRA: Flappillon
HONEY MIO: Lovely Honey
SWEET MIO: Honeybee
From prior experience you should know that flying Insectors usually charge forward to assault your King. Start with a good lineup to avoid being in a bad situation right at the start. Lovely Honey and Honeybee can poison your Insectors and that's not a good thing. You would want to take out these two first followed by the other two flying Insectors. Lastly, finish the king before it uses it's Crushing Horn.

Insectors stats
[
]
Playable characters
Jaster Rogue - Kisala - Steve - Simon Wicard - Zegram Ghart - Lilika Rhyza - Jupis Tooki McGanel - Deego Aegis
Guest characters
Desert Claw
Daytron Corporation
Valkog Drazer - Norma Kissleigh - Dr. Izel - Golba - Donald Pocacchio - Seed
Other characters
Dorgengoa - Monsha - Toady - Raul - Qrann Ijiru - Miri Rhyza - Amni Rhyza - Ugozi - Miyoko and Chie - Henry - Robert - MIO -

Mark Pocacchio

-

Fox Banarge

-

Vandersch

- Alekt Rosencaster - Johnny - Starr - Lucy Dyne -

Burton Willis

- Angela Seas - Gale Dorban -

Zax Morarty

- Junia Morarty - Harry -

Fritz

-

Jaus

-

Nina

-

Ragnar

- Johanna -

Freidias

-

Albioth

- Ilzarbella - Sebastian - Arabis
Rosa - Juraika - Zerard - Vedan - Alistia - Mariglenn
Dorgenark - Emperor - Ghost Ship - Ghost Ship Extreme
Directory
Items List, Key Items, Rare Items, Bosses, Enemies, Quarries, Shields, Weapons, Costumes, Weapon Synthesis, Factory, Insector, Frog Log, Revelations
Other
Wilherser System, Transporter, Walkthrough